jdd's Home Page
"an error occurred while processing this directive"
Welcome to my personal web space.
New! My Fowl Place archive. 10 years of utterances all on one convenient web page.
I am now on Mastodon, @jdd@mastodon.sdf.org
... or you can visit my Gemini capsule at gemini://gem.sdf.org/jdd/. There's nothing much there either. (You may use a web proxy if you feel you must, but where's the fun in that? I recommend Lagrange or Emacs Elpher mode.) [What is gemini?]
Since you are visiting my home page, you must want to see a picture of my cat: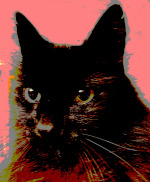 Or maybe you came here to play some Doom. Uses the webassembly version of DOSBox, not suitable for all browsers.
Or view The Horror, a minor work of personal digital archaeology. Requires javascript.
View this site's cookie warning. Also javascript. Really, I don't actually like javascript that much.
While I'm figuring out what else to put here, please enjoy this ...
List o' Links (Recent additions)
A curated list of old-school, non-commercial, hand-made websites in the 90s vernacular. Survivors of the Web As It Once Was, and sites that preserve the spirit of it.
Documenting Digital
A brief hypertext history of Digital Equipment Corporation, presenting multiple timelines tracing the development of its various products and services. Appears to date from 1998 and was originally distributed on CD ROM, from what I can glean from the legal notice. Now resident on Gordon Bell's personal site.
date added: 2023-02-05
Collection of Slide Rule replicas
A fine collection of carefully hand-crafted slide rule simulators/emulators, implemented in javascript by Dr. Robert Wolf.
date added: 2023-01-30
253: a Novel for the Internet in Seven Cars and a Crash
"This site is the original 1990s encoding of the prize-winning hypertext novel 253: A NOVEL FOR THE INTERNET IN SEVEN CARS AND A CRASH. The internet version and the book 253 THE PRINT REMIX went on to win the Philip K Dick Award for Best SF Novel not published in hardback." Add, may I add, this site is totally awesome and you should check it out for sure. A great use of hypertext as a literary medium.
date added: 2023-01-15
KUNSTRADIO
"This is the site of the ORF KUNSTRADIO from Vienna, Austria. Artworks for radio and WWW on air and on line - NEW every Sunday." Online since 1995. One of the two "cooperating hubs" for the annual celebrations of Art's Birthday in the imaginary city of Wiencouver.
date added: 2023-01-07
Stephan's Virtual Shack
Writings on music and audio electronics, shortwave radio and related matters, cameras and scanners, with a fairly technical bent. Also some interesting archival materials on Windows 3.1. The German version contains somewhat more and different content.
date added: 2023-01-02
See the full List o' Links here. Now with tags and descriptions!
The ten most recent additions are available in a handy RSS format.
Other People's Bookmark Lists, Etc.




---
Hosting for this site is provided by
Last updated: Tuesday, 31-Jan-2023 01:41:25 UTC
This pretty much meaningless counter has been updated





times!
---