jdd's Home Page
"an error occurred while processing this directive"
Welcome to my personal web space.
New! My Fowl Place archive. 10 years of utterances all on one convenient web page.
I am now on Mastodon, @jdd@mastodon.sdf.org
Since you are visiting my home page, you must want to see a picture of my cat: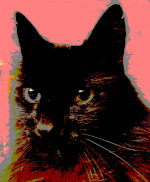 Or maybe you came here to play some Doom. Uses the webassembly version of DOSBox, not suitable for all browsers.
Or view The Horror, a minor work of personal digital archaeology. Better with javascript.
View this site's cookie warning. Requires javascript. Really, I don't actually like javascript that much.
While I'm figuring out what else to put here, please enjoy this ...
List o' Links (Recent additions)
A curated list of old-school, non-commercial, hand-made websites in the 90s vernacular. Survivors of the Web As It Once Was, and sites that preserve the spirit of it.
See the full List o' Links here. Now with tags and descriptions!
Here are the five most recent links:
Iain Fisher
Parent site for sub-sites focussed on Ken Russell, Sarah Kane, Athol Fugard, Steven Berkhoff, Zakes Mokae, and a discussion forum (still active!).
date added: 2023-12
The Humanoid Homepage
"A long time ago, in a dodgy Italian studio ... " A fan site celebrating the wonder that is The Humanoid, a 1979 spaghetti space opera starring Richard Kiel.
date added: 2023-11-11
The Slightly Less Than Official Spork Homepage
A web page dedicated to that most versatile piece of cutlery. Should it not completely satiate your desire to learn about sporks, you may also wish to check out SporkInfo.
date added: 2023-10-23
Ragged Entelechy
Horror lit, true crime, Patti Smith, Clark Ashton Smith, fragments of a journal, and sharks. Brought to you by Fiona Webster.
date added: 2023-10-08
Mens Temporum
The personal site of Rob, in Kent, England, who records "Incidents in my life which have suggested that at least some of my arbitrary decisions and whims may actually be inspired by my quite unpredictable thoughts in the future." A well written meditation on how stray thoughts and coincidence might point to a higher reality than the one we know.
date added: 2023-10-01
-----
See the full List o' Links here.
The ten most recent additions are available in a handy RSS format.
A few links have been removed since I started this project, see the List o' Broken Links for details.
Other People's Bookmark Lists, Etc.




---
Hosting for this site is provided by
Last updated: Sunday, 29-Oct-2023 20:10:16 UTC
This pretty much meaningless counter has been updated





times!
---